DevOps Training Course Broucher & Syllabus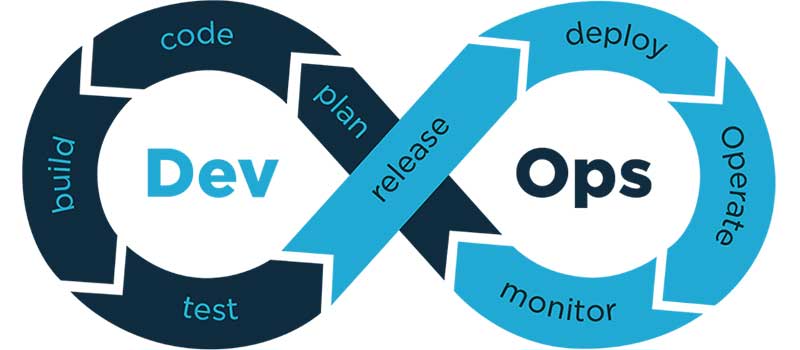 DevOps Overview
DevOps is a set of practices, tools and cultural philosophy that automate and integrate the processes between software development and IT teams. It emphasizes team empowerment, cross-team communication and collaboration, and technology automation.

A DevOps team includes developers and IT operations working collaboratively throughout the product lifecycle, in order to increase the speed and quality of software deployment. It's a new way of working, a cultural shift that has significant implications for teams and the organizations they work for.

DevOps is definitely a promising career for all IT professionals. In next few years 90% of the companies will adopt DevOps culture.

In India average salary for a DevOps professionals with 3 – 4 years of experience is Rs. 15 lac per year.
Why KeenSmartz?
Hands-On Assignments For Each Module

At KeenSmartz, we offer the best DevOps training. We have an excellent network of working professional having over 10 years of experience working in Industry.

All our DevOps instructors are working in Top level MNCs and have min 10 years of experience.

KeenSmartz DevOps Training course is designed by industry experts and to incorporate the latest industry market cloud requirements.

As a DevOps engineer you will become an expert in infrastructure automation, deployment, configuration management tools such as GIT, Docker, Jenkins, Nagios etc.

DevOps Training from KeenSmartz will make you expert on all required DevOps tools.

40 Hours of Live Virtual Training

100% student satisfaction rate in DevOps training.

KeenSmartz has excellent trainers for DevOps with rich experience in industry.

Course Completion Certificate

KeenSmartz is not just a training provider but an IT solution Provider. We have our Development entity with the name of MSA Biztech
DevOps Training course objectives
In-depth DevOps Industry Standards knowledge.

Get Expertise on various DevOps Techniques, Continuous Development, Continuous Integration, and Continuous Testing by performing hands-on on GIT, Jenkins and Selenium.

In depth knowledge on Configuration Management, and Continuous Deployment using Ansible.

Hands on experience on Containerization and Continuous Deployment by performing hands-on on popular tools like Docker and Kubernetes.

Hands on the continuous monitoring using Nagios.

Hands on automating the all aspects of a modern code delivery and deployment pipeline using Source code management tools.
Course Duration
40 Hours of Instructor Led Online Classroom Training
Who Can Attend
IT Professionals

Software Testers

System Admins

Solution Architects

Security Engineers

Application Developers

Integration Specialists
Course Contents
Module 1 – Overview of DevOps
Objectives:
After completing this module, you should be able to understand:
What is DevOps

Benefits of DevOps over other software development processes

Insights into the DevOps environment

Overview of different DevOps Tools Available Today

How DevOps Delivery Pipeline works
Topics Covered:
Introduction to DevOps

Why DevOps?

Benefits of working in a DevOps environment

Agile and DevOps

DevOps Lifecycle

DevOps Ecosystem & Use Case

DevOps Stages

DevOps Delivery Pipeline
Module 2 – Managing Source Code, Version Control – Git and GitHub
Goal: In this module, you will learn what is Source Control Management and the functionalities of Git and Github.
Objectives:
Gain insight of what is Version Control

Manage source code of projects

Hands on commonly used Git commands

Understand how to work with remote repositories (Github)
Topics Covered:
Overview of Version Control Systems

Central vs Distributed Control systems

Git Introduction

Git file workflow

Git Installation

Commonly used commands in Git

Branching and Merging, Stashing, Rebasing, Reverting and Resetting

Working with Remote repository

Introduction to GitHub

Using Git and GitHub together.
Hands On:
Git Installation, Git Common Commands, Working with Remote Repository, Branching and Merging, Stashing, Rebasing, Reverting and Resetting, Show the various git commands to push and pull a repository, from GitHub, Branching and Merging, Merge Conflicts
Module 3 – Understanding and using Build tools
Goal: In this module, you can learn how to build an appropriate delivery pipeline and perform test automation on it.
Objectives:
Understand various build tools available

Understand how Maven works

Perform unit testing"
Topics Covered:
Overview of Various Build Tools

What is Maven

Maven Architecture

Maven Plugins

Maven Archetypes

Project Object Model (POM)

Source Control Integration
Hands On: Creating simple Maven project and perform unit test and resolve dependencies, Configuring Maven
Module 4 – Continuous Integration using Jenkins
Goal: In this module, You will know how to perform Continuous Integration with the help of Maven build tool and Jenkins by creating deployment pipelines using Jenkins.
Objectives:
Working with Jenkins

Managing authorization in Jenkins

Managing notifications in Jenkins

Understanding Master-slave architecture in Jenkins

Build and deploy codes using Jenkins

Build pipeline plugin in Jenkins

Understand Declarative pipeline in Jenkins
Topics Covered:
Introduction to Continuous Integration

Introduction to Jenkins

Jenkins Architecture

Installing and Configuring Jenkins

Plugin Management in Jenkins

Jenkins Security Management

Notification in Jenkins

Jenkins Master-slave architecture

Jenkins Build Pipeline

Jenkins Delivery Pipeline

Jenkins Declarative pipeline
Hands On: Installing and Configuring Jenkins, Create pipeline view using DevCompile and QAUnitTest, Adding Slave node in Jenkins, Build Pipeline project using Groovy script, Creating a build using Jenkins, Integrating with Jenkins, Working with Jenkins Pipelines
Module 5 – Configuration Management Using Ansible
Goal: To Understand how to manage and configure your infrastructure using Ansible.
Objectives:
Understand Architecture of Ansible

Understand infrastructure configuration

Using Ansible CLI

Understand and execute Ansible Ad-Hoc Commands for one-off tasks

Automate host servers using Ansible Playbooks"
Topics Covered:
Introduction to Configuration Management

Introduction to Ansible

Ansible Architecture

Ansible Components

Inventory Management

Installation & Configuration

Working with Ansible Modules

Ansible AD-HOC Commands

Writing Ansible Playbooks

Ansible Roles

Creating Roles using Ansible Galaxy
Hands On: Write Ansible playbooks for Configuration Management, Ad-Hoc Commands, Running a Simple Playbook, Using Variables and handlers, Using Ansible Roles
Module 6 – Containerization using Docker Part – I
Goal: This module aims to introduce you about the core concepts and technology behind Docker and containers.
Objectives:
Understand what Containerization is

Understand difference between containers and VMs.

Understand the Docker Architecture

Using Docker CLI

Write and build a Docker file to create a Docker Image
Topics Covered:
Introduction to Virtualization

Introduction to VMs

What are Containers?

Why Containers

Difference between VMs and Containers

Namespaces

Docker

Docker Architecture and Components

Container Lifecycle

Docker CLI

Docker Port Binding

Detached and Foreground Mode

Docker file

Docker file Instructions

Docker Image

Image Distribution using Docker Hub

Working with Containers and Docker Hub
Hands On: Installing Docker in EC2, Starting Containers in Different Modes, Docker CLI Commands, Port Binding, Writing a Docker file to Create an Image, Create Docker Image, Manage Containers, Create Images from Containers
Module 7 – Containerization using Docker Part – II
Goal: Learn more advance concepts of Docker. Learn how to use Docker Hub registry, deploy a multi-tier application using Docker Compose, and create a swarm cluster.
Objectives:
Understand how to use Docker Hub to store Docker Images

Store data in Container Volumes for persistent storage

Understand how to setup Docker Compose

Deploy a multi-container application using Docker Compose

Deploy a Docker Swarm Cluster

Networking concepts in Docker

Working with Docker Compose
Topics Covered:
Docker Registry

Docker Files

Container Storage

Volumes

Docker Compose

Docker Networking

Docker Swarm
Hands On: Setting up Docker Hub, Docker Volumes, Push images to Docker Hub, Docker Compose, Installing a Multi-Container Application using Compose, Running Docker in Swarm Mode, Building Images using Docker File, Creating multi-containers using Docker Compose, Creating User-Defined Networks, Working with Docker Swarm
Module 8 – Orchestration using Kubernetes Part – I
Goal: In this module, you will understand concepts of Container Orchestration and Basic of container management using Kubernetes. You will also learn how to manage multiple Docker Hosts using Kubernetes Orchestration.
Objectives:
Understand what Container Orchestration is

Learn about Kubernetes Core Concept

Understand what Pods are

Create Deployments to manage Pods

Understand how to Deploy Pods

Understand how to launch Daemon Sets for background applications

Understand how to Update and Rollback your Deployments

Understand how to scale your containerized Applications
Topics Covered:
Introduction to Container Orchestration

Basics of Kubernetes container orchestration

Understand Kubernetes Architecture

Differences between Docker Swarm and Kubernetes

Kubernetes Core Concepts

Installing Kubernetes using Kubeadm

Understanding Pods – Creating Pods and Deployments using YAML

Selectors & Labels in Kubernetes

Using Replica Sets & Rolling Updates

Replica Set and Replication Controller

Working with Jobs

Understand Deployments

Understand Daemon Sets

Rolling Updates and Rollbacks

Understand Scaling Application

Scheduling the applications on the container
Hands On: Installing Kubernetes, Using Kubectl Common Commands, Creating Pods, Deployments, Daemon Sets, Rolling-update and Rollbacks, Scaling in Kubernetes, Working with Jobs, Using Replica Sets & Rolling Updates, Scheduling the applications on the container
Module 9 – Orchestration using Kubernetes Part – II
Goal: To learn and deploy different service discovery mechanisms, utilize Volumes for persistent storage and deploy StatefulSets for Stateful applications.
Objectives:
Deploy different Kubernetes Services

Utilize Volumes to store Persistent Data

Create Persistent Volume Claims to attach volumes to Pods

Understand Persistent Volume Claims Primitives

Use Headless Services in Stateful Sets

Deploy Helm Charts
Topics Covered:
Understand Services in Kubernetes

Persistent Storage in Kubernetes

Primitives for Persistent VolumeClaims

Understand Secrets and ConfigMaps

Understand Headless Services

Stateful Sets

Understand Helm Charts
Hands On: Deploying Services, Persistent Volumes and Persistent Volume Claims, StatefulSets, ConfigMaps and Secrets, Helm Charts
Module 10 – Continuous Monitoring using Nagios
Goal: Learn how to continuously monitor your tasks using various plugins and implementing Nagios Commands
Objectives:
Topics Covered:
Understand Continuous Monitoring tools

Use various plugins and objects associated with Nagios

Utilize common Nagios commands
Introduction to Continuous Monitoring

Introduction to Nagios

Installing Nagios

Understand Nagios Plugins

Nagios Plugins (NRPE) and Objects

Common Nagios Commands and Notification
Hands On: Installing Nagios, Monitoring of different servers using Nagios
Module 11 – Monitoring using Prometheus and Grafana
Goal: To understand how to collect, monitor, and visualize data using Prometheus and Grafana.
Objectives:
Understand Continuous Monitoring

Use Prometheus to monitor services

Create an alerting mechanism using Prometheus

Deploy Grafana dashboards to visualize data

Integrate Prometheus and Grafana to monitor a full pipeline
Topics Covered:
Understand Continuous Monitoring

Introduction to Prometheus and Grafana

Setting up Prometheus and Grafana

Monitoring using Prometheus

Using Grafana for Dashboard Visualization

Creating a Dashboard to monitor the Pipeline
Hands On: Monitoring using Prometheus, Alerting using Prometheus, Visualization with Grafana Dashboards, Monitoring a Pipeline
Module 12 – Understand Cloud, AWS DevOps Services, DevOps on Cloud
Goal: To understand cloud computing and various cloud services and service providers. Also get an overview of how to implement DevOps using AWS.
Objectives:
Understand about cloud and its advantages

Learn about Various cloud computing services

Get an idea of how to implement DevOps using AWS
Topics Covered:
Introduction to Cloud Computing

Why Cloud?

Why DevOps on Cloud?

Overview of AWS (Amazon Web Services)

Implement DevOps using AWS

Introduction to CodeCommit, CodeBuild, CodeDeploy and CodePipeline

Hands On: Working with Code Commit & Deploy an application using CodePipeline